ReliOn Test Strips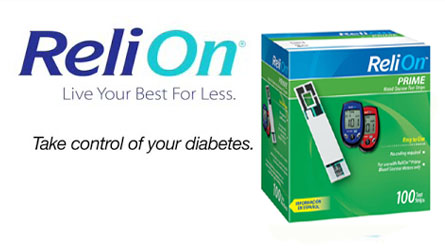 ReliOn test strips may be regarded as a helpful buddy of individuals suffering from diabetes who need to check or monitor their blood sugar level (glucose) on a regular basis. Test strips are the disposable complements of blood glucose monitors and with the set, that vital monitoring can now be easily done at home instead of travelling back and forth to the hospital or medical clinic. Being a disposable medical supply, the expenses on buying the strips can compound and hurt the budget. This is the problem that ReliOn wants to solve, to provide quality and accurate blood sugar monitors and strips at the cheapest possible price.
Types of test strips sold by ReliOn
Currently, the brand sells four kinds of blood sugar test strips which should be used in conjunction with the same type of monitor.
ReliOn Ultima test strips. The Ultima line of monitors and strips are the first or original ones introduced by the brand. Generally intended for in vitro diagnostics, these can provide accurate results in about 5 seconds. The minimum blood sample volume is very minimal at just 0.6 microliter.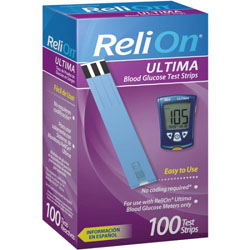 ReliOn Prime test strips. The Prime test strips are innovated to allow blood sugar testing not only on the fingers but the sample can be extracted from the palm as well. The prime also requires very minimal amount of blood as sample, provides quick and accurate results without the need for coding.
ReliOn Confirm/Micro test strips. The Confirm and Micro are actually two different strips. But because they are the latest types offered by the brand with almost the same specifications, they can be used interchangeably. Both feature the minimal sample requirement of just 0.3 microliter. They allow finger or palm testing, have beeping sound indicators, and provides accurate results in 7 second. The only difference of the ReliOn Micro test strips is the monitor, which is smaller and definitely handier than the rest of ReliOn units.
ReliOn test strips benefits and advantages
Why consider shifting towards using this brand? Because of the following benefits and advantages over all the other brands: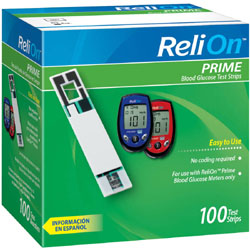 Quick and Accurate results. Of course the most important consideration more than anything else is accuracy. And the brand is noted for its close-to-perfection accuracy. Based on tests and actual user and patient reviews, you can really rely on ReliOn when it comes to accuracy. Coupled with this feature is provision of quick diagnostics ranging from only about 5 to 7 seconds.
More affordable price. If you are spending too much on your current test strip or kit, it's about time to switch to this brand. It is relatively cheap but still maintains quality and efficiency. Being sold in Walmart, you get to take advantage of its accessibility.
Convenient and easy to use. The test strips or the entire kit is very convenient. With the smaller Micro and ReliOn Confirm test strips, you can bring the entire kit in your bag or pouch when travelling. Though blood sugar monitors are very easy to use in general, ReliOn has made its products easier and technologically advanced.
Flexible. When you suddenly get tired or annoyed of getting blood samples on your fingertips constantly, the strips are flexible and can collect from the palms as well. Some users also consider the palm area less painful.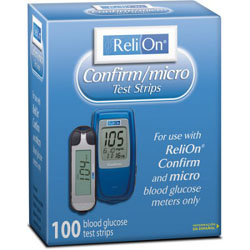 Requires minimal sample volume. With a blood sample requirement as little as 0.03 microliter, even little children won't get intimidated with the idea of testing.
Improved grip. Have you ever experienced wasting a test strip because it suddenly slipped from your hand? This shouldn't be a concern with the test strips featuring improved grip.
Complementing devices
Of course the strips can't give you results or readings on their own. The blood sugar or glucose monitor device should be purchased if you don't have one yet. And if you want a simple and more sterile way to extract blood from your palm or fingers, you can purchase ReliOn's ultra and micro thin lancets.
Additional notes
As mentioned above, ReliOn test strips should be used with the right or same name of glucose monitor device. This eliminates the need for coding and most importantly, ensures the most precise results.